Mulu Cave Adventure (3 Days/2 Nights)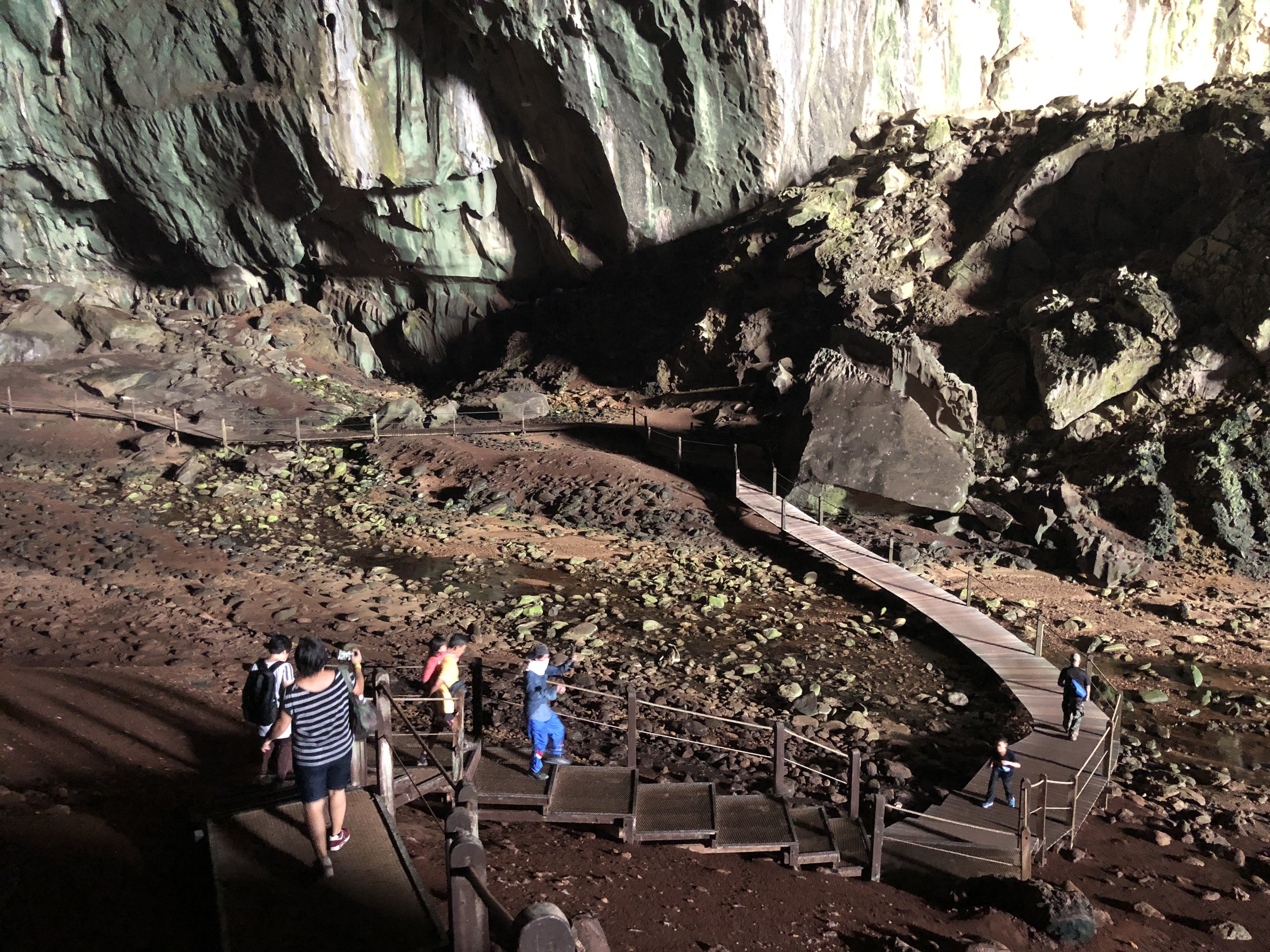 Mulu Cave Adventure (3 Days/2 Nights)
Flying from KK stay two nights in Gunung Mulu National Park, a UNESCO World Heritage site famous for its dramatic and accessible caves. Enjoy river cruise and get 'up close and personal' with primary rainforest on the Canopy Walk.
Mulu Cave Adventure (3 Days/2 Nights) - (Adult £549, Child under 12 sharing £499, Single Room £649)
You may select 'Mulu Adventure' either as a standalone tour or as a 'bolt-on' to the start or end of your Blue Kinabalu tour – please feel free to discuss options with Blue Kinabalu.
Important Note: Mulu offers some of the most spectacular and accessible caving opportunities anywhere in the world. However, to enjoy the experience fully you need to have a reasonable level of mobility and fitness. Expect to walk around 10km each day. The wooden walkways that are inside and outside the caves have hand-rails and are generally in good repair but inevitably are slippery when wet so bring some good walking boots, or shoes with plenty of tread. Additionally, you need to be aware that there are many steps to climb, both up and down inside the caves and to the canopy walkway. Accordingly, this trip may not appeal to those with reduced mobility or the elderly. Please feel free to contact Blue Kinabalu if you'd like to discuss further.
Day 1 - Transfer from Kota Kinabalu city area Hotel to KKIA (Kota Kinabalu International Airport) – MASWings flight to Mulu – Transfer to Mulu National Park – Visits to Deer and Lang show caves
We pick you up at 5:45 a.m. from your Kota Kinabalu city area hotel (additional charge for Nexus) and transfer you to Kota Kinabalu International Airport for MASWings flight MH3251 0805>0900 departure to Mulu, a small settlement that's located in the neighbouring Malaysian state of Sarawak that's only accessible by air and river.
After arrival and meeting your local tour guide, there's a five minute transfer on one of the few local roads in Mulu to the headquarters of the UNESCO World Heritage site, Gunung Mulu National Park. This will be your home for the next two nights and you will be checked in to the park's comfortable rainforest lodge (or similar) accommodation. The rest of the morning is free and it's a good opportunity to visit the 'Discovery Centre' (no additional charge) at Park HQ and further acquaint yourself with the Mulu area followed by lunch of your choice in the café (on your account).
After lunch, you'll make the scenic 3km walk on wooden walkway, accompanied by your knowledgeable tour guide through primary rain forest to visit two of Mulu's dramatic show caves. First there's an opportunity to experience the enormous Deer Cave that's 150 metres wide and 120 metres high. It's a stunning location and from one vantage point you can see a perfect profile of the 16th US President, Abraham Lincoln. After Deer Cave there's a visit to nearby Lang Cave to view the extraordinary stalactite and stalagmite limestone formations that look like jellyfish. After exploring the caves there's then a chance to relax at the nearby bat observatory. Nothing is guaranteed in nature, but you may be lucky and witness the exodus of two million bats departing the cave shortly before nightfall in search of food (insects)…as well as circling hawks that are waiting for the bats! You then trek back to the Park HQ and your accommodation by torchlight. Dinner is at the Park café and is at your own expense.
Day 2 - Mulu river cruise – Wind and Clearwater show caves – (Breakfast / Lunch)
After breakfast which is included in the trip, you'll proceed by long boat up river on the picturesque Sungai Melinau Paku where there's a stop at the village of Batu Bungan, a local settlement that's home to the friendly Penan people where there's a chance to practice your blow-pipe skills! (for a small fee that goes directly to the local community). A further cruise up river takes you to two more Mulu show caves. The first is the Cave of the Winds followed by Clearwater Cave where you'll follow many steps down to view the underground river system that flows through the cave. The caves are Mulu's showcase; each of the four caves has a different feel and personality and there's some wonderful photo opportunities. After the visits to the caves are complete, you'll enjoy a relaxing picnic lunch in an idyllic location beside the river followed by return by boat to the Park HQ. The rest of the day is free for you to relax and enjoy the beautiful, unspoilt and tranquil surrounds of the National Park and you could also enjoy a self-guided tour (at no additional charge) through the rain forest to Paku Waterfall that is away from the main walkways. However, for safety reasons you must tell Mulu Park security (adjacent to Park HQ) in advance if you intend to visit Paku Waterfall or take any other walks away from the signposted park walkways. Dinner is at the Park café and is at your own expense.
Day 3 - Mulu Canopy Walk – Transfer to Mulu Airport – MASWings flight to Kota Kinabalu – Transfer to Kota Kinabalu city area hotel (Breakfast)
An early start but well worth it. We've arranged for you to be taken on an early morning Canopy Walk that will be led by a Mulu National Park tour guide. This is an opportunity to walk high 'up close and personal' into the rainforest – the walk is around 20-25 metres off the ground and at 480 metres long is the longest example in the world and your knowledgeable tour guide will bring the rain forest to life with information about the trees and ecosystem they support. After breakfast at the Park HQ (included) it's time to check out and at 11 a.m. you'll take the short transfer to Mulu airport for MASWings flight MH3252 1200>1255 to Kota Kinabalu.
We will then transfer you from the airport to your KK city area hotel (additional charge for Nexus) and the conclusion of the tour.
WHAT'S INCLUDED:
Accommodation as described, meals as shown, ground transportation within Sabah, return air fare from Kota Kinabalu to Mulu, entrance fees, guide fees, tipping for Tour Guide & Driver.
WHAT'S NOT INCLUDED:
Air fare to/from Kota Kinabalu, Travel Insurance, Malaysian Tourism Tax (RM10 per night per room payable at time of check-in), Alcoholic Beverages, Photography Permits, Additional activities and sundries at hotel/resort and any other item not stated on the itinerary.
ADDITIONAL INFORMATION:
As part of the reservation process you advise us of the date you'd like the tour to commence (we're very flexible but if your tour commences within 21 days we suggest you advise us by email first)
Please note that this tour is on general sale and accordingly there will be other guests on the tour.
If you'd like to request a bespoke or private tour, please complete your requirements in Bespoke Tours of Sabah and Blue Kinabalu will be happy to provide you with a quotation.