Kinabalu National Park (Day Trip)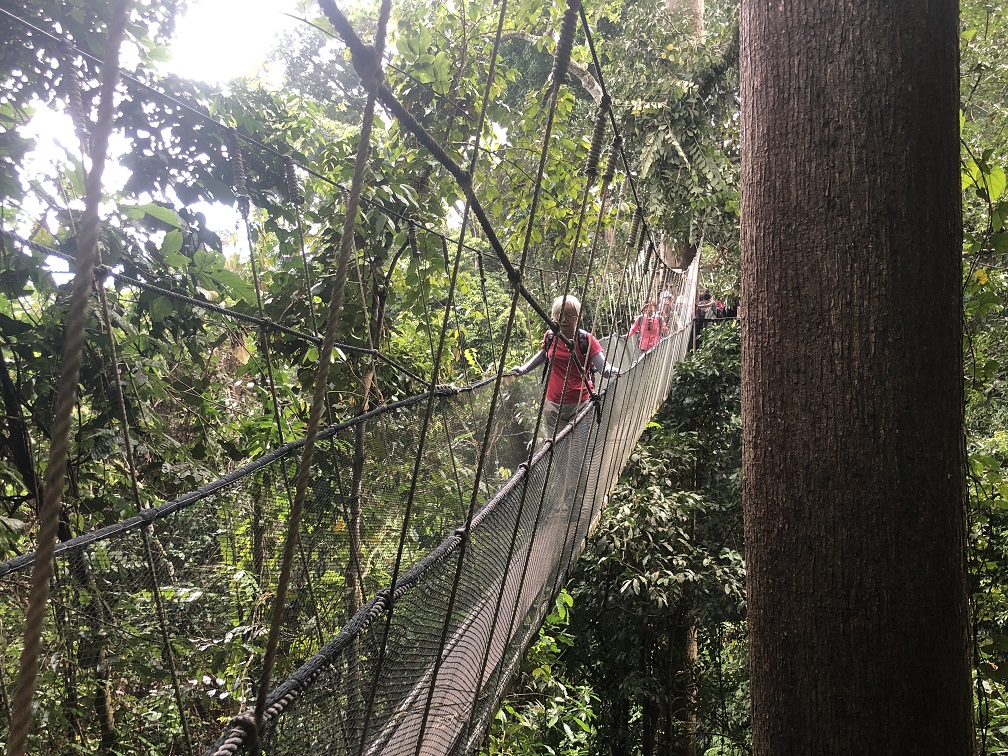 Kinabalu National Park (Day Trip)
A full day trip visiting the UNESCO World Heritage Kinabalu National Park including Botanical Garden, Canopy Walkway (where you can get 'up close and personal' with primary rainforest) and a dip in at adjacent Poring Hot Springs. On the journey back to KK, we'll stop at Kundasang to visit the WWII War Memorial.
Kinabalu National Park (Day Trip) (Adult £59, Child £49)
Day Trip - Nabalu Market – Kinabalu National Park (Botanical Garden, Poring Hot Spring and Poring Canopy Walkway) – Kundasang War Memorial (Lunch)
Your Blue Kinabalu Tour Guide will pick you up from your Kota Kinabalu city hotel at around 7:30 a.m. (additional charges applicable for pick-up outside the city) for the drive north to the National Park. After around about 90 minutes we will make a stop at Pekan Nabalu (Nabalu Market) for a comfort stop and an opportunity to visit the local market where there's an opportunity to browse and buy local fruits, vegetables, snacks and locally crafted souvenirs. After a further 30 minute drive through scenic countryside we will arrive at Kinabalu National Park, located some 88km north-east of KK.
Proud to have been designated a 'World Heritage Site' by UNESCO in 2000, the park is home to the world's most diverse array of flora and fauna with thousands of species to be found here. Noticeably cooler than KK / Sandakan with an average temperature of 18C – 24C you will first enjoy a 20-30 minute stroll through the National Park Botanical Garden, that's in the midst of the rainforest and which contains many rare pitcher plants and orchids that you may see, dependent on blooming.
It's then a 50 minute drive to Poring Hot Spring (and within the National Park) where we will have lunch. Then, after lunch there's an opportunity to visit Poring Canopy Walkway. At 158m long and some 40m above the forest floor, this is a very rare opportunity to experience the rainforest canopy at close quarters up-close and personal. At the Hot Springs themselves you can take a refreshing dip in the sulphuric spring water in an open Japanese style bathtub.
On the return journey to Kota Kinabalu, there will be a chance to visit the War Memorial (WWII commemoration of Allied forces) at the small town of Kundasang. Upon return to KK, we will drop you off at your KK city hotel (additional charges applicable for drop-off outside the city)
WHAT'S INCLUDED:
Ground transportation as described, Meals as described, Entrance Fees, guide fees, tipping for Tour Guide & Driver.
WHAT'S NOT INCLUDED:
Travel Insurance, Photography Permits and additional activities or any that are not stated on the itinerary
ADDITIONAL INFORMATION:
As part of the reservation process you advise us of the date you'd like the tour to commence (we're very flexible but if your tour commences within 21 days we suggest you advise us by email first)
Please note that this tour is on general sale and accordingly there may be other guests on the tour.
If you'd like to request a bespoke or private tour, please complete your requirements in Bespoke Tours of Sabah and Blue Kinabalu will be happy to provide you with a quotation.