Sabah Wildlife and Sandakan (3 Days/2 Nights)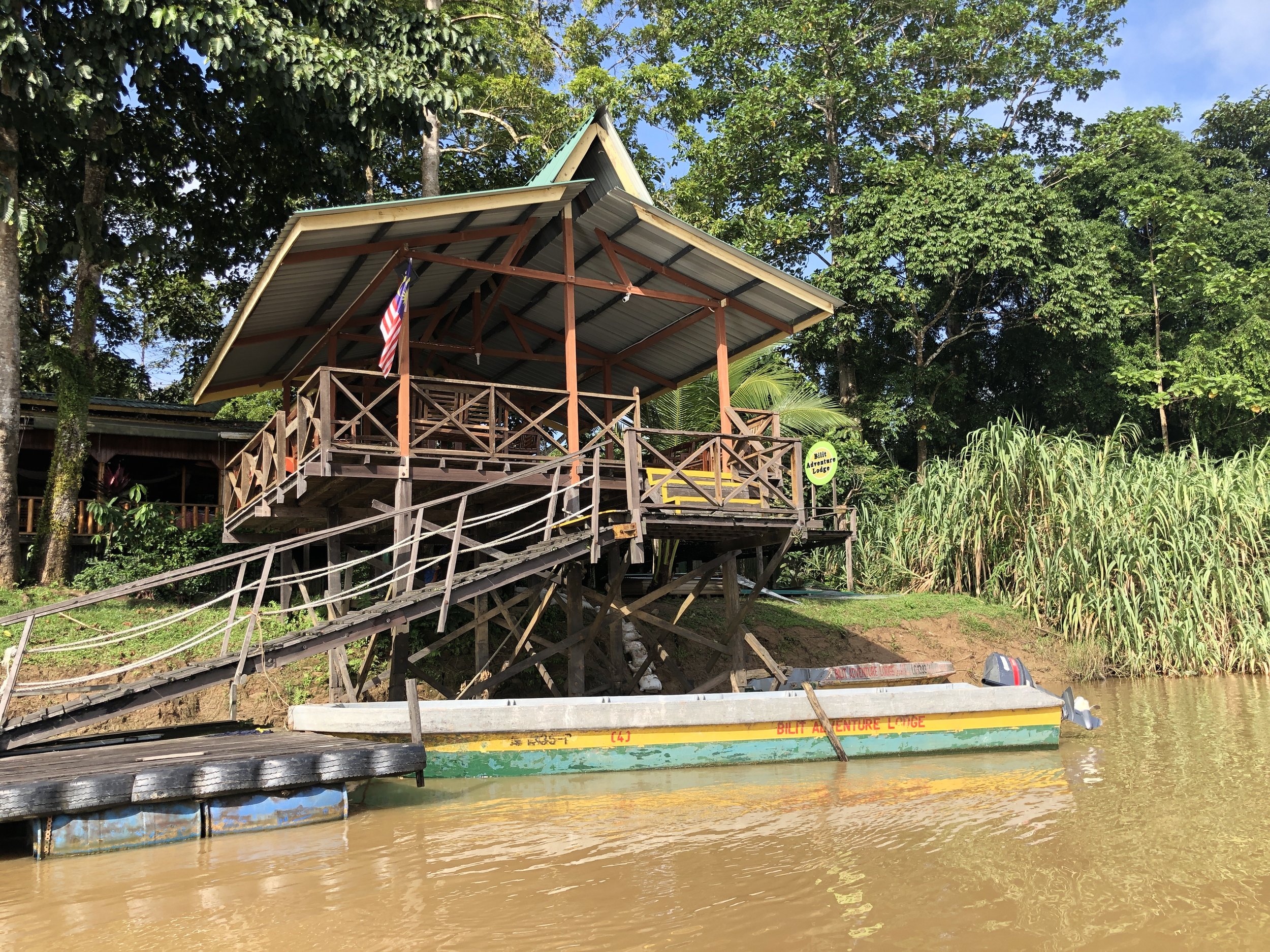 Sabah Wildlife and Sandakan (3 Days/2 Nights)
This tour from Sandakan includes a trip to Sepilok to see orangutans and sun-and sun-bears then spending two wonderfully relaxing nights at a River Lodge where you'll have a series of river cruises searching for wildlife. After a trip to Gomangtong Cave the rest of the day will be spent visiting the many attractions in Sandakan.
Sabah Wildlife and Sandakan (3 Days/2 Nights) (Adult/Child £399, Single Room £449)
This Tour starts and ends in Sandakan
Day 1 - Sepilok Orangutan Rehabilitation Centre – Bornean Sun Bear Conservation Centre – Bilit Adventure Lodge - Kinabatangan Wildlife Afternoon River Cruise (Lunch / Dinner)
Pick up is by arrangement either at Sandakan Airport (8 a.m.), City Hotels and Hotel Sandakan (8:30 a.m.), Sabah Hotel (8:45 a.m.) or Sepilok Jungle Resort (9:15 a.m.). Here you will be met by your tour guide and transferred to the world-famous Sepilok Orangutan Rehabilitation Centre. There's an opportunity to visit the hugely popular orangutan nursery where young orphan orangutans are trained in life-skills such as climbing that they'll need in the wild. Then it's a short walk to Platform A (Feeding Station) where orangutans living in the rainforest can return to Sepilok for food. As this is a natural environment you may be able to observe some orangutans here but as with all natural wildlife there are no guarantees. We then return to Sepilok HQ where we think you're really enjoy the short film that follows lives of orangutans from their time of arrival at Sepilok through re-introduction into the wild.
Also, not to be missed is an opportunity to view the world's smallest bear in a natural environment at the adjacent Bornean Sun Bear Conservation Centre where the knowledgeable rangers will point out individual bears and talk about their personalities and stories.
After lunch you will be driven overland to Bilit, Kinabatangan River arriving around 2:30 p.m. to check-in to the Bilit Adventure Lodge (standard air-conditioned room), that's only accessible by river. The lodge is homely and comfortable, and you'll be welcomed with afternoon tea accompanied by some tasty local Malay bites.
After a short briefing by the Nature Guide you will depart at 4 p.m. on an afternoon cruise on Sabah's longest river, the 560km Kinabatangan River where there will be an opportunity to search for wildlife in their natural habitat that may include proboscis monkeys, orangutans, long-tailed macaques, pygmy elephants, crocodiles, eagles, hornbill and herons. However, as with all wildlife in their natural habitat there are no guarantees and the above is a sample itinerary. After the cruise dinner will be served at the Bilit Adventure Lodge.
Optional: Night Walk can be arranged (RM10.00 nett per person per hour) and Tree Planting (RM10.00 nett per tree): For both activities pay locally on the day. For information, the profit on any monies that you spend on incidentals at Bilit including bottled water, beer, hiring of torches, raincoats and walks goes directly to the local community employed at Bilit Adventure Lodge.
Day 2 - Kinabatangan Wildlife Morning & Afternoon River Cruise – Bilit Adventure Lodge (Breakfast / Lunch / Dinner)
Wake up to the early morning calls of the gibbons and tropical birds and start the day with another opportunity of a cruise on the Kinabatangan River, this time with a departure of around 6 a.m. for the early morning one-hour cruise.
After breakfast, you'll have the whole day to unwind and enjoy the relaxed atmosphere of the Bilit Adventure Lodge and surrounding riverside environment. Mid-morning, there's an opportunity to enjoy a trek through the riverine forest followed by lunch. Spend the afternoon relaxing enjoying the view of the river rolling by before late afternoon there's a further opportunity for another river cruise to a different part of the Kinabatangan. After dinner there may be a chance to enjoy some informal local entertainment.
Day 3 - Gomangtong Cave – Sandakan Nature City Tour (Breakfast / Lunch)
After breakfast at the Bilit Lodge, you will check-out and depart by 8:30 a.m. to the destination of Gomangtong Cave, a protected area where the limestone cave is the largest bird's nest cave in Sabah and is home to millions of swiftlets.
After the visit to the cave you will be driven to the town of Sandakan, once the capital of British North Borneo where lunch will be taken at the English Tea House followed by a visit to the nearby Agnes Keith House, that was home to the American author famous for her three autobiographical accounts of life in colonial North Borneo with her English husband Harry Keith (the first Conservator of Forests and Director of Agriculture). The Sandakan tour continues with visits to Sandakan Memorial Park (WWII commemoration of Allied forces) and Puu Jih Shih Buddhist Temple which affords a magnificent view of Sandakan's Bay and town centre. Also included are visits to St. Michael's Church, the oldest stone church in Sabah with the foundation stone laid in 1893 and the Central Market or tamu where you can witness local seafood and produce being traded.
At this point the tour concludes and you have the option of being dropped off at Sandakan Airport or a Sandakan city hotel.
WHAT'S INCLUDED:
Accommodation as described, meals as shown, ground transportation as described, entrance fees, guide fees, tipping for Tour Guide & Driver.
WHAT'S NOT INCLUDED:
Air fare to/from Kota Kinabalu or flights to/from Sandakan, Travel Insurance, Malaysian Tourism Tax (RM10 per night per room payable at time of check-in), Alcoholic Beverages, Photography Permits, Additional activities and sundries at hotel/resort and any other item not stated on the itinerary.
ADDITIONAL INFORMATION:
As part of the reservation process you advise us of the date you'd like the tour to commence (we're very flexible but if your tour commences within 21 days we suggest you advise us by email first)
Please note that this tour is on general sale and accordingly there will be other guests on the tour.
If you'd like to request a bespoke or private tour, please complete your requirements in Bespoke Tours of Sabah and Blue Kinabalu will be happy to provide you with a quotation.